Over the years Gilera has always produced interesting little 50s, and it is hard not to remember masterpieces such as the Regolarità Competizione 50 of the 1970s. In the following decade, at least in the first part of the 1980s, Gilera concentrated mainly on 125s and twin cam single cylinders, so much so that the first modern 50 arrived on the market only in 1987, with the Rally 50 powered by Ktm. Therefore, the Arcore company was somewhat behind Aprilia and Malaguti; a delay that it tried to make up for towards the end of the 1980s by designing and building its own ex-novo engine that would equip the Top Rally 50 and its evolutions, as well as the road 503 and the Bullit 50, which is still a success among enthusiasts today. Unfortunately, the time was already ripe for the scooters that would soon take over the desires of 14-year-olds and Piaggio's plans for Gilera were very clear. Unfortunately. 
The Gilera 50 engine.
Before starting to describe the Gilera 50 production of the 80s and 90s, it is important to dwell on the heart of the 50cc motorbikes produced by the Arcore-based company.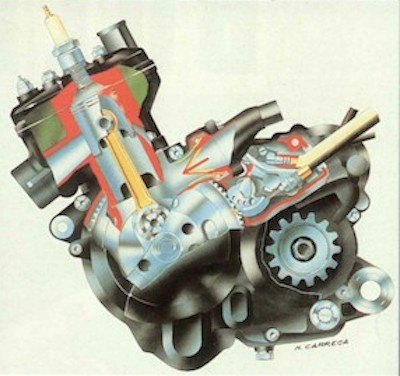 Il motore Gilera 50cc venne interamente progettato e prodotto in Gilera fino alla chiusura dello storico stabilimento di Arcore. Si trattava di un propulsore progettato nel momento esatto dove le normative del Codice della Strada cambiavano, lasciando ai costruttori la potenza libera per i loro motori 50cc (prima limitata ad 1,5cv), pur tuttavia introducendo l'assurda limitazione del numero massimo di 3 rapporti al cambio. Il propulsore nasceva con 4 rapporti e poteva avere il miscelatore automatico o meno e l'avviamento elettrico o a pedale. Gilera aveva quindi progettato un motore senza vincoli particolari che era in grado di erogare la ragguardevole potenza di 6,5cv (ovviamente senza strozzature) con il piccolo carburatore "codice" da 12mm. Sicuramente, nel 1989 era un propulsore decisamente più performante dei più diffusi Cagiva, Morini e Minarelli, ma fu subito evidente il suo tallone d'Achille: le vibrazioni. Lasciando la parola all'Ing. Romolo Ciancamerla (progettista all'epoca Gilera e coinvolto anche nello sviluppo del Bullit): "Per questioni di costi, il contralbero con il quale inizialmente lo si voleva dotare, rimase nella penna del progettista e pertanto si decise di procedere con una soluzione inusuale: il motore era dotato di solo due attacchi al telaio, uno anteriore ed uno posteriore e il vincolo alle culla anteriore del telaio era stato pensato non rigido, ma attraverso una sorta di corta bielletta che, nelle idee di chi la aveva pensata, avrebbe dovuto filtrare le vibrazioni. Si trattava di una soluzione già usata sugli scooter, ma che non portò ad alcun miglioramento: i telai, di qualsiasi veicolo si trattasse, si crepavano tutti sull'attacco di quella bielletta ed il motore vibrava comunque come un frullino, al punto che le plastiche dei veicoli dotati di quel motore, regolarmente si frantumavano!". Non si trovò mai una soluzione se non quella di saldare il telaio dove si crepava. 
The Gilera 50 engine was born with 4 gears and consisted of a primary shaft with 11-15-20-24 and a secondary shaft with 40-35-32-28. The 4-speed gear mounted on the secondary shaft was present and only needed to be unlocked (by opening the crankcase to remove the lock on the desmodromic) to be used. This modification was absolutely necessary, as without the retainers, the 6.5hp engine had a very short third gear!
Nel corso della produzione, l'ingranaggio della 4 marcia sul secondario venne eliminato – per ridurre i costi dato che tanto il limite imposto dal C.d.s. era di tre marce – e tutta la rapportata del cambio venne rivista, allungando tutte le marce.  Pertanto per  riportarlo a 4 marce, il motore doveva venire completamente aperto in due e l'ingranaggio della 4 marcia sul secondario andava fisicamente aggiunto, tanto che Gilera aveva infatti predisposto un apposito kit per la trasformazione. La modifica quindi portava il cambio a 4 marce con albero primario da 12-23-25-18 (in ordine di montaggio) con corrispondente albero secondario 38-29-26-34 (sempre in ordine di montaggio sull'albero). Esistono quindi due cambi totalmente differenti! (Ringrazio il blog di Meteolaipacco)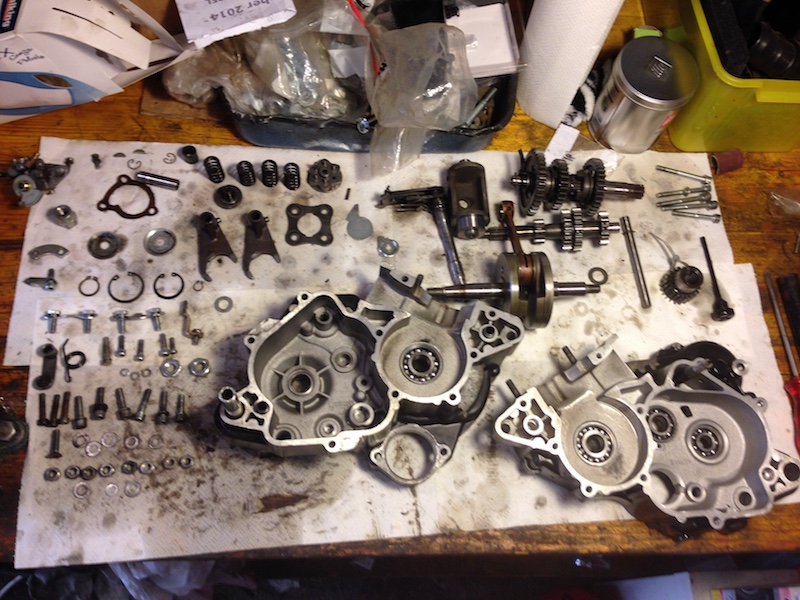 Si trattava comunque di un cambio piuttosto assurdo, frutto di scelte di compromesso imposte dal Codice. Come sempre per i motori 50 di quegli anni, la soluzione migliore sarebbe stata portare il cambio a 6 marce. Cosa possibile, andando a sostituire tutte le componenti: albero primario, albero secondario, desmodromico e albero selettore. L'operazione sarebbe possibile, ad es, utilizzando le componenti del cambio a 6 marce della Gilera Eaglet  e GSM.
We conclude with the words of engineer Romolo Ciancamerla, mentioning that: " At the closure of the Arcore plant at the end of 1993, someone decided that only the 50ino had to be saved and, since the quantities were too small to transfer the construction of the engine to the mega plant in Pontedera... the equipment was transferred to Franco Morini, who continued to produce the engine under the Gilera brand; an engine that was used both for Spanish vehicles and for the only ex-Arcore vehicle that was decided to continue to be produced in Spain: the custom Eaglet, then equipped with 6 gears.
Well, that engine was produced by Franco Morini, for Gilera/Piaggio at least until 1997 and was also mounted, with 6-speed gearbox, on the 1999 Gilera GSM 50 motard."
Rally 50 - 1987
The Rally 50 was the first modern 50cc motorbike produced by Gilera and although it was a completely new model, it was already very well equipped. The very complete instrumentation, the good quality of the fairings and a fashionable chassis - although there was no rear disc brake - were offered at a price of 2,850,000 lire. The Ktm engine was very interesting, liquid-cooled with forced circulation, equipped with reed valve, automatic mixer and 4-speed gearbox as required by law. It was a very good engine, which vibrated very little and was derived from the 80cc motocross version; it was just a pity that there was no electric starter, by now an essential accessory also for the 50. Two colours were available: white, black and red and white, black and blue.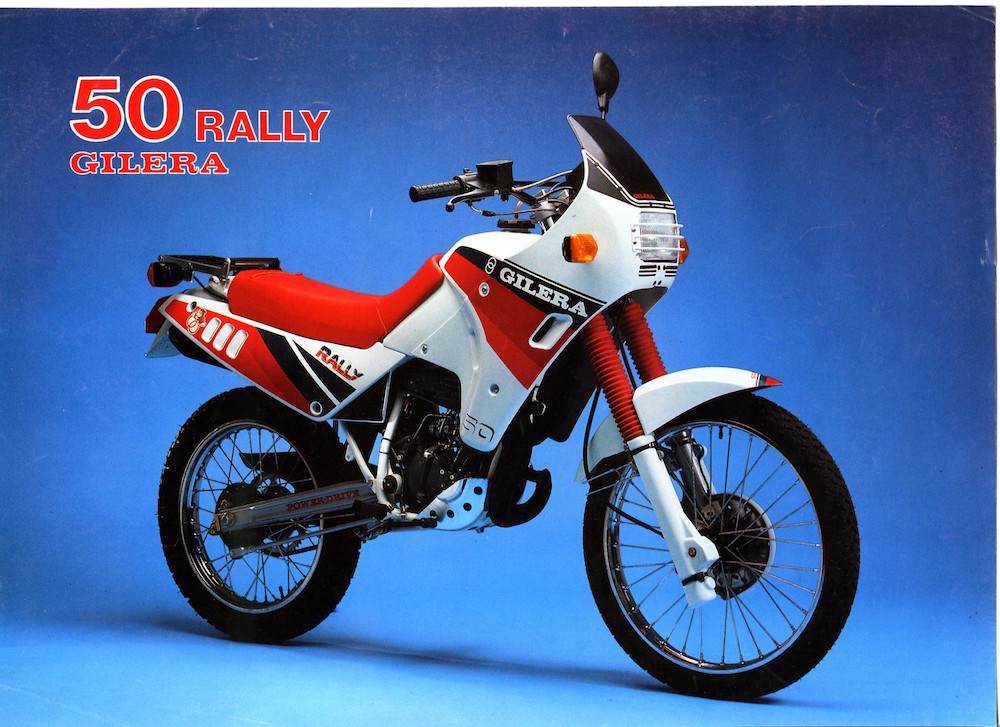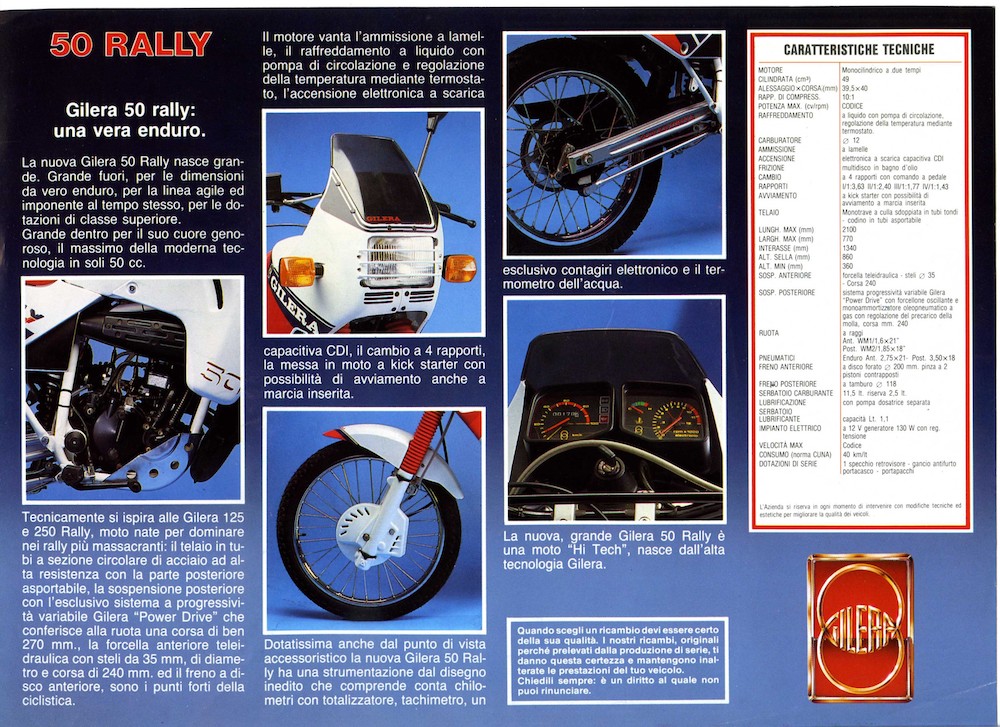 R1 50 - 1988
The R1 50 was offered for sale at Lire 3,050.00 in two colours: black-red and white-red. The base remained the same as that of the Rally 50 of the previous year and therefore also the Ktm engine remained unchanged.
RC 50 Top Rally - 1989
The RC 50 Top Rally introduced important novelties for 50cc motorbikes produced by Gilera and specifically a brand new engine entirely designed and built in Gilera that took advantage of the new law that abolished the power limit for 50cc engines (previously fixed at 1.5 hp, but now accompanied by the reduction of the maximum number of 3 gear ratios) and could boast an impressive 6.5 hp. Cooling was still by forced circulation, but now the reed valve was directly in the crankcase and, in addition to the automatic mixer, an electric starter was finally available. The chassis was largely based on the previous Rally 125, although the suspension settings had been revised and a 230mm rear disc finally made its appearance. The superstructure was new and the complete instrumentation was new. Red or black were the available colours. 

Sioux 50 - 1990
Inspired by the Apache 125, the Sioux took the place of the previous RC 50 Top Rally. Sold at a price of Lire 3,900,000, the Sioux differed from the RC only in the setting of the fork, still 35mm, with revised hydraulics and the single rear shock absorber. Everything else was the same, including the Gilera engine with 3-speed gearbox. Two colours were available: blue with yellow saddle or white with green saddle.
Bullit 50 - 1990
Offered at a price of 2,500,000 lire (150,000 lire with electric starter), the Bullit represented a decisive innovation in the world of 50s. It was difficult to position it as a tubon, but also as a motorbike; let's just say that the Bullit opened up a new vein in which it was the only participant. The frame was still 'open' like the tubonis, but the similarities stopped there. The structure used was in fact a diagonal boxed steel twin girder, coupled to a single-sided swingarm with a cantilever wheel. The suspension system featured a 30mm fork and a single gas suspension. There was a 240mm disc brake at the front and a classic drum brake at the rear, combined with an unusual transmission sprocket that was slightly boned inwards. The engine remained the familiar Gilera with reed valve in the crankcase, automatic mixer and electric start (optional) introduced on the 1989 RC Top Rally and still equipped with 3 gears. The colours available in 1990 were: white-red-blue, black-red-white and light blue-water green. The Bullit remained in production until 1993 and was offered in multiple colours.
Gilera 503 – 1991 (tipo 73)
Presentata nel 1991, la Gilera 503 (codice tipo 73) è la prima moto da 50cc stradale sportiva di Gilera che si affianca alla regina della categoria Aprilia AF1 50, in attesa dell'arrivo della Cagiva Prima 50 nel 1992. La carenatura integrale cela completamente il telaio ed il propulsore, diventando la nota stilistica della 503 rispetto alla concorrenza. La dotazione di serie é ragguardevole con la completa strumentazione praticamente identica a quella della Crono 125, il miscelatore automatico e l'avviamento elettrico.
La ciclistica vede un telaio in acciaio a doppio trave diagonale completo di un struttura in tubi che sorregge il codino. Il bellissimo forcellone in alluminio dotato di eccentrici per la regolazione della tensione della catena é una vera chicca se consideriamo la cilindrata della 503. Le sospensioni vedono all'avantreno una forcella tradizionale con steli da 32mm ed al posteriore la conosciuta sospensione Power Drive abbinata a mono ammortizzatore. L'impianto frenante si caratterizza per un disco anteriore da 270mm ed al poteriore da 240mm. Le ruota anteriore é da 16″ e quella posteriore da 17″.
Il motore é il classico propulsore Gilera da 6,5cv (se sbloccato) già descritto in apertura e dotato di tre marce a causa del C.d.s. Come indicato, è possibile montargli la 4 marcia con il kit apposito oppure provare a montare tutto il cambio a 6 marce della successiva Gilera Eaglet. Purtroppo, rimane il problema delle vibrazioni che possono portare alla rotture dell'attacco motore anteriore sul telaio.
La 503 viene proposta al prezzo di Lire 4.100.00 compreso l'avviamento elettrico, inizialmente in due colorazioni: nero con fregi gialli e fucsia-nero con fregi bianchi. Segue una colorazione bianco/nero e nel 1993 vengono riproposte le medesime colorazione della GFR 125, ovvero Gramigni Replica e High Tech.