1983 - WSXT ALETTA ROSSA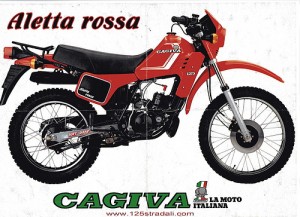 Presented and marketed since 1983, the Cagiva WSXT, better known as Aletta Rossa, is a technically well equipped enduro, well finished and with a line, for the time, very fashionable that immediately wins the hearts of many 16 year olds. The Aletta Rossa was an extraordinary sales success, so much so that [...]
1984 - ELEPHANT 125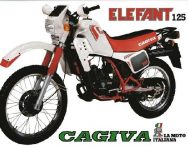 In 1984 Cagiva adds to the Aletta Rossa the new Elefant 125, that is a new type of enduro that takes inspiration from the bikes used in the massacring Paris-Dakar, where the house of Schiranna has many successes. The Elefant cohabits in the list with the Aletta Rossa with which it shares the same chassis and engine.[...]
1985 - ELEPHANT 2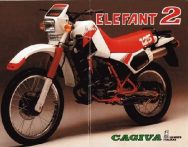 In the summer of 1985 Cagiva presented the Elefant 2, an enduro inspired by the previous Elefant, but with substantial updates to the bodywork, the chassis and the engine, which was much more powerful than the previous one. Unlike Aprilia and Gilera that offer a basic enduro with "African" and "rally" versions, in Schirananna [...].
1986 - ELEPHANT 3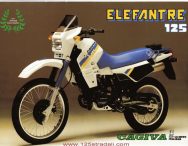 In the summer of 1986 the last chapter of the Elefant saga was released, the Elefantre. Although it shared the basic layout with the previous version, the new Elefant was updated not only in the bodywork, but also in the chassis and the engine, which now adopted the electric starter as standard. The Elefantre still maintains a rather street-oriented riding style, but [...]
1987 - CRUISER 125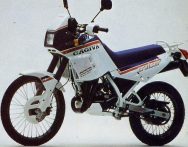 Introduced and marketed in July 1987, the new Cruiser took the place of the previous Elefantre. Compared to the Elefant series, the Cruiser's riding position was more suited to off-road riding. The driving position allows a higher load on the front, and the suspension offers a greater excursion more suitable for off-road driving. [...]
1988 - TAMANACO 125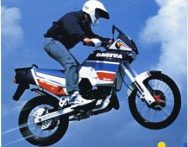 Introduced in June 1988, the new Cagiva enduro was named after a particularly aggressive South American Indian tribe: the Tamanaco. As for the previous Cruiser, with which it shares the frame, the Tamanaco maintains a more off-road oriented riding style than the previous Elefant generation. Compared to the Cruiser, the superstructures are completely new and [...]
1990 - N 90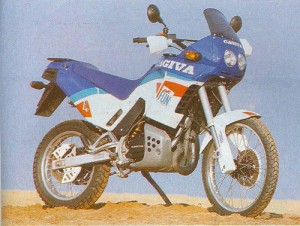 Presented at the Milan Motor Show in November 1989, the new N 90 took the place of the Tamanaco, perhaps adopting a less original name, but one that clearly paid homage to the 1990s that were soon to come. The bodywork was entirely new. Compared to the previous Cruiser and Tamanaco, the N 90 offers a driving style that prefers [...].
1990 - K7 125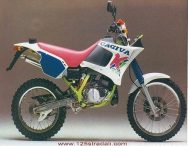 Introduced in 1990, the K7 is a real novelty for Cagiva that renews its enduro range presenting a bike different from what we have seen until now. The K7 differs from the N 90, compared to which it adopts a setting more suitable for a professional enduro, but also from all the other competitors, [...]
1991 - W8 125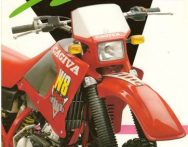 Introduced in 1991, the W8 is part of a new enduro family consisting of the 50cc W4 and the 350cc and 600cc four-strokes W12 and W16. The successor to the K7 has a much more conventional design than its predecessor, which was not very popular with the public. The W8 has a more conventional [...]
1991 - SUPERCITY 125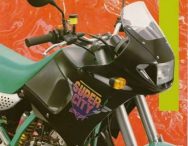 Presented at the Motorshow in Bologna in 1990 and marketed from April 1991, the Supercity 125 is Cagiva's answer in the funbike sector, which Gilera inaugurated back in 1987 with the forerunner Fastbike. The Supercity represents the link between the very sporty Mito and the enduro K7. With a modern line characterized by an aggressive windshield and [...]