Dear Members,
How much CO2 do our bikes emit? More importantly, why would we want to know?
We motorcyclists - especially those who love vintage motorbikes - are rather sceptical about environmentalism, and there are many reasons to be, but not the ones we might think. Carbon dioxide (co2) is a huge problem for mankind and its damaging effects on the climate should be obvious to all; the question is how to tackle the co2 problem. There are no definitive solutions at hand, although the tendency is to simplify the co2 problem by looking solely at our lifestyle, i.e. how much co2 we emit. It follows that if the green answer to using our bikes is 'don't use them or switch to electric', we are not dealing with a scientific solution, but with dogma. And this is exactly why many motorcyclists are then disinterested in the subject of co2, or worse, deny it altogether.
What can we do then?
We could start by approaching the co2 problem in a different way. If my bike emits X tons of co2 per year, what can I do to compensate for those X tons that the annual use of my bike has produced? As I said, we essentially have two choices: 1) stop using our bikes and turn us all into static collectors or 2) calculate how much co2 our annual use of our bikes produces and invest in projects, e.g. reforestation, that allow us to absorb those X tons of co2 that our bikes have produced.
The online co2 calculator offered byhttps://www.carbonfootprint.com - which you can also find at the bottom of the article - gives an idea of how much co2 we emit through our lifestyle, but more specifically - click on the appropriate section of the calculator - how much co2 our bike emits based on annual mileage.
A carbon-free motorbike club? How do I register?
Assolutamente si! Il Motoclub 125 Stradali dal 2022 è un Motoclub FMI completamente carbon free e l'attestato annuale che vedete qui sotto lo dimostra!
Cliccando qui potete iscrivervi al Motoclub, acquistando la tessera FMI Member 2022 e quindi, oltre a tutti i vantaggi della tessera FMI Member 2022, l'utilizzo delle vostre moto può considerarsi co2 carbon free!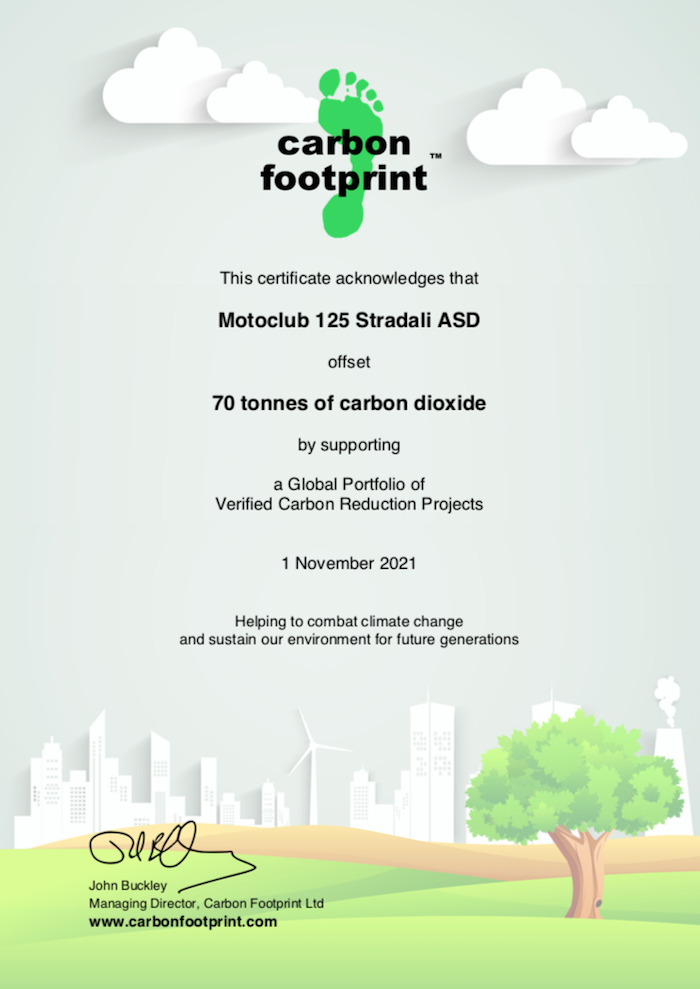 How is the CO2 produced by the motorbikes of Motoclub 125 members Stradali calculated?
Of course, a correct calculation is very complicated, as our members do not only own 125 motorbikes from the 80s and 90s, but also other engine capacities, types and maybe some are modern motorbikes or scooters that they use much more often than their vintage bikes. Of course, we also have members who are collectors and may have collections of as many as 50 bikes, so the annual mileage is very low, even under 100km per year per bike.
Therefore, using the calculator at the bottom of the page, we have tried to make an average that takes into account a fairly large number of bikes and according to the following deliberately wide parameters:
Total bikes 1000, all considered as "over 500cc". (although a large proportion are, of course, 125cc).
Annual mileage per bike: 300km
Tot co2 emitted per bike: 0.04 metric tons
Tot co2 emitted per 1000 motorbikes per year: 40 tons per year.
We have therefore taken into account that most of our members' motorbikes are Euro 0 two- or four-strokes and have therefore rounded up to 70 tonnes per year of co2 emitted.
The annual co2 emitted by the motorbikes of the 125 Motorcycle Club members Stradali is therefore estimated at 70 tons of co2/year.
We repeat: it is perhaps a deliberately exaggerated estimate, but in these situations it is better to abound and in any case you have to start somewhere! In the coming seasons, there will be plenty of opportunities to review the calculation!
So how do you actually compensate for the co2 emitted by your bikes?
Short answer: by financing serious and credible reforestation and renewable energy projects. 
The Motoclub has opted to offset CO2 with a reliable English partner: carbonfootprint, a company active in the offsetting sector and offering CO2 offsetting with certified projects at the highest level.
Of course, our contribution is not big, but it is a start! These are the projects that the Motoclub helps to finance: Verified Carbon Standard Projects
Iscrivendovi al Motoclub, riceverete quindi la tessera Tessera FMI Member con tutti i suoi vantaggi, inclusi anche quelli ambientali con la compensazione di co2 delle vostre moto!
125 greetings (green)