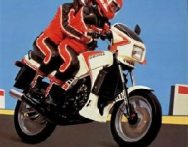 1984 - RV 125 (type 128)
Presented at the Milan Motor Show in November 1983 and marketed from May 1984, the RV 125 (together with its enduro cousin RX) represented a fundamental turning point for Gilera which, after the splendour of the past, had been greatly reduced in size. [...]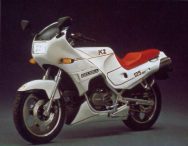 1986 - KZ 125 (type 138)
Presented at the Milan Motor Show in November 1985 and marketed in June 1986, the KZ 125 is a quantum leap in the 125 cc panorama stradali. A true evolution of the species. Winner of the title "Motorcycle of the Year 1986", the KZ links its existence to a mythical character that would deserve a dedicated section: [...]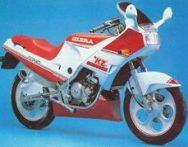 1987 - KZ 125 ENDURANCE (type 138)
stradali Presented in 1987, the KZ Endurance was the first 125 cc bike to introduce the fashion of the double front headlight, which was only approved in Italy in 1987. The price in 1988 was Lire 4,430,000 plus Lire 295,000 for the electric starter. The colours available are White/Red or White/Blue The Endurance [...]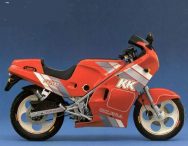 1987 - KK 125 (type 138)
The KK was born as a fully fairing version of the KZ, although it was not an evolution of it: in fact, both motorbikes were designed by Luciano Marabese and presented together at the Milan Motor Show in November '85. However, the KK was only marketed from December 1986 and with some slight modifications compared to the model presented [...].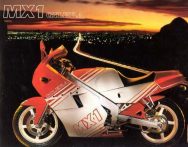 1988 - MX1 125 (type 147)
Presented at the 1987 Milan Motor Show and marketed from April 1988, the MX1 was a completely new motorbike. Equipped with a fairing designed in the Pininfarina wind tunnel and a new steel frame, called the Twinbox, the new arrival from the Arcore company shared practically only the engine with the previous series, which was [...].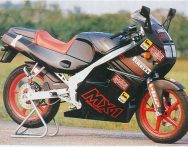 1988 - MX1 125 RECORD (type 147)
The MX1 Record was created to celebrate the four world speed records, 125 class, won by the MX1 on June 1988 on the track of Nardò. With two motorbikes practically series, Gilera and the team of the magazine Motosprint, to which we owe the paternity of the beautiful idea, marks the best performance, class 125, on 6 hours, [...]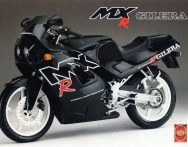 1989 - MXR 125 (Type 147)
Presented in February 1989 and marketed immediately afterwards, the Gilera MXR is the evolution of the previous MX1 from which it differs mainly for the new fairing with double round headlight and the new fairing that hides the frame from view. The price in 1989 was Lire 5,600,000 and the colours available were [...].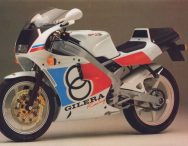 1989 - SP01 (Type 152)
Launched and marketed in May 1989, the SP 01 is the first street-legal 125 to be designed as a racing bike. A cramped riding position and set-back footrests made the SP 01 the sportiest and most congenial 125 road bike ever produced. As fast and competitive as they were, Aprilia Sintesi, Cagiva [...]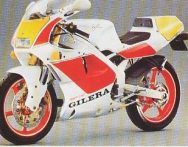 1990 - SP02 (type 152)
Presented on 21 November 1989 at the Milan Motor Show and marketed from March 1990, the SP 02 took over from the previous SP 01 and was distinguished by its new livery, the 40 mm upside-down fork and small interventions concentrated on the engine to strengthen the delivery curve. [...]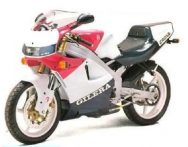 1991 - CRONO 125 (SP/E Type 164)
Presented at the Bologna Motorshow in 1990 and marketed from 1991, the Crono, also known as the SP 91, was the direct evolution of the SP 02. The Crono retained the racing and minimalist look of its progenitors from which it differed only by the new lively livery and a new and more streamlined tail. [...]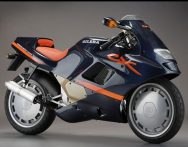 1991 - CX 125 (type 158)
Presented at the Bologna motor show in 1990 in different variants and colours, some of them only as a graphic test, as a non-conformist motorbike with a concept far different from its competitors, it was in fact a real commercial disaster...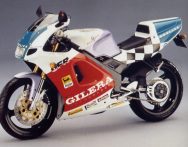 1993 - GFR 125 (Type 167)
Presented at the Bologna Motorshow in November 1992 and marketed in early 1993, the GFR, Gilera For Racing, is the last 125 road bike produced by Gilera. While the previous SPs had very few differences between them, and these were mostly identifiable by their livery, the GFR, while maintaining the sporty layout of the previous series, was a [...]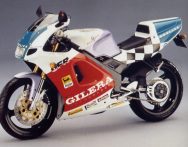 1993 - GFR 125 SP (Type 167)
The GFR SP is the version of the last 125 road bike produced by Gilera and dedicated to Sport Production racing. In terms of chassis numbers, it is not possible to distinguish the Sport Production from the Replica. The DGM is the same 53496 for both versions and also the chassis and engine numbering does not change compared to the Replica. [...]